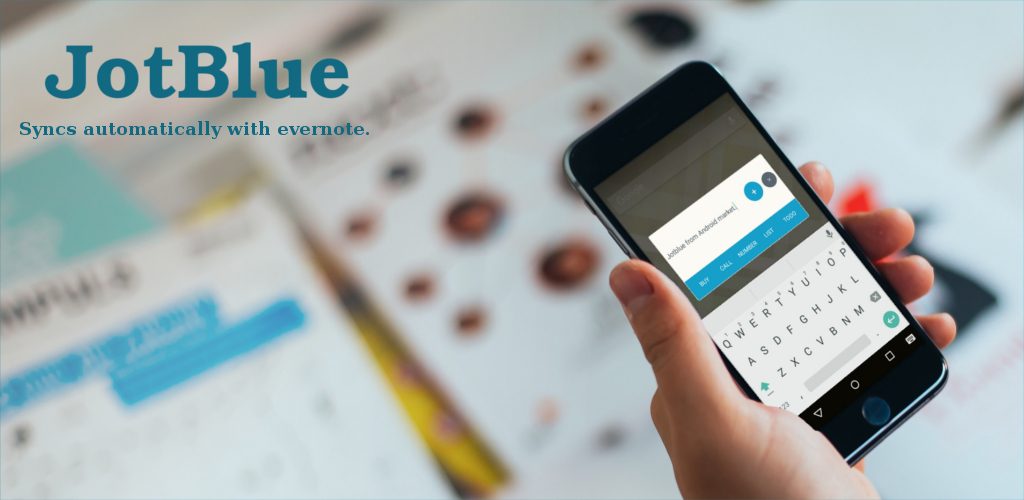 JotBlue is a quick note taking app. The aim of the app is to take notes quicker.
App focuses on taking short notes, using short codes. The codes exist from A-Z, each stand for a particular type of list, like B stands for 'Buy', N stands for 'Number' and so on.
There are also certain people who save their notes in SMS, if you are amongst one of them, the app will fetch the messages you have text yourself.
The app provides a quick widget too, so that you don't have to open it every-time. If you add your Evernote account, the app will sync all your notes with that.
Lets see how it works.
You want to quickly add bananas to your shopping list, you type "b(space) bananas". Bananas have now joined the rest of the items in your shopping list.
Want to remember to call Mike? Enter "c(space) Mike". Mike is now in your "to call" list.
Need to quickly write down a number/address? Type "n(space) 123… and the number goes into your number list.A-Appointment
B-Buy
C-Call
D-Diary
E-Expense
F-Fix
G-Go
H-Home
I-Important
J-Joke
K-Kids
L-List
M-Maintenance
N-Number
O-Order
P-Pay
Q-Questions
R-Reminder
S-Schedule
T-To Do
U-Urgent
V-Visit
W-Work
X-Exercise
Y-Yourself
Z-(Blank)
You can check the app here on playstore.